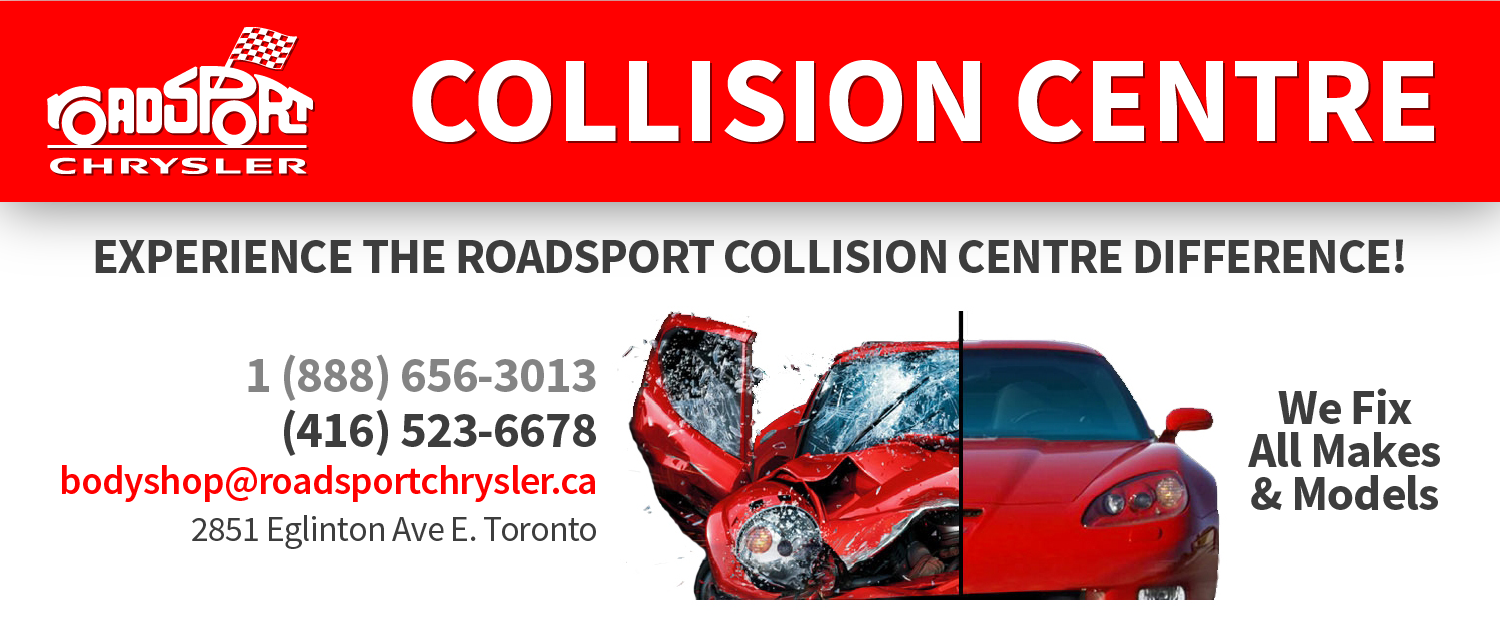 Auto Body Shop and Collision Centre in Toronto, Ontario serving the Greater Toronto Area
Accidents Happen, Roadsport Chrysler Helps Make the Damage Go Away
No one plans to be in an accident. That's why they're called "accidents." When you've got an unplanned dent from an accident, or even just a little ding or scratch from an errant shopping cart, you can count on the body shop team at Roadsport Chrysler to set you right again. We'll work with your insurance and help you get your RAM All-New 1500, RAM 1500 Classic, Dodge Grand Caravan, Jeep Wrangler or Chrysler Pacifica looking like new once again.
We Can Tackle All Kinds of Dodge, Jeep, Chrysler, Ram Collision Repairs in Toronto
Our body shop serving Markham ON, North York ON and Scarborough ON can help with big and small repairs of all kinds. Whether your last accident left your car with an unsightly scratch or severe damage to its body panels, we can help you get your car back to the way it was the day it first rolled off the lot. So, if you're ready to put your car's collision damage behind you, we're ready to get to work.
Schedule an Appointment!
The Roadsport Chrysler body shop team is ready to help with nearly any collision or aesthetic repair Markham ON, North York ON and Scarborough ON drivers might have. We understand that bringing in your vehicle for a full collision repair can be a hassle - but fear not, the Roadsport Chrysler body shop team is equipped with the knowledge and equipment to take care of Toronto drivers' body repair needs. Our team of professionals will work with derivers to find a time and date that works with your schedule. Here at Roadsport Chrysler, we understand the fast-paced lifestyle and we offer a range of scheduling options to meet drivers' unique needs. Whether you're looking to schedule an appointment through our website or you'd like to meet with our team of professionals in person beforehand, Roadsport Chrysler can help! Call, stop by, or schedule online! Options abound, choose Roadsport Chrysler for all your body vehicle repair needs! 
Experience why RoadSport Chrysler should be your first choice when it comes to autobody repair


| | | |
| --- | --- | --- |
| |  Qualified and licensed technicians |  Repairs to all makes and models |
|  Courtesy Rentals available |  Lifetime limited paint warranty |  Free pickup and delivery customer shuttle |
|  We accept all insurance claims |  Free interior, exterior detailing and wash with any body repair | |


 Collision Centres in Toronto

North York Collision Reporting Centre
113 Toryork Drive, North York
(416) 808-2222
Hours of Operation: Open 7 days a week all year, 6:00AM to Midnight
East Collision Reporting Centre
39 Howden Road, Scarborough
(416) 808-2222
Hours of Operation: Open 7 days a week all year, 6:00AM to Midnight