2021 Dodge Challenger Review in Toronto, Ontario

2021 Dodge Challenger Review in Toronto, ON
For the performance enthusiast, the 2021 Dodge Challenger is for you. The iconic Dodge Challenger sports car is featured in our new inventory at Roadsport Chrysler Dodge Jeep Ram in Toronto, Ontario. Here's what to expect from this powerful car.
2021 Dodge Challenger Performance
The unbeatable 2021 Dodge Challenger SRT Stock trim is the fastest car on the market. This muscle car accelerates from zero to 96 km/h in an unrivalled 3.25 seconds. With up to 807 horsepower, ultimate performance and unmatched speed make this one of the most coveted Dodge vehicles. With five engine options, the 2021 Challenger can be configured in a variety of ways. Choose between V6 and V8 engines, naturally aspirated or supercharged, rear-wheel or all-wheel drive, and manual or automatic transmissions.
2021 Dodge Challenger Interior Features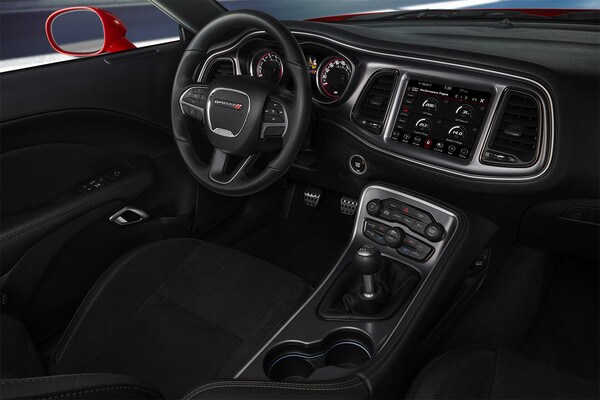 This old-school coupe is one of the most spacious in its class, with comfortable seating for five in a quiet cabin. Technology features bring a modern element to the interior. An intuitive infotainment system connects to an available 18-speaker Harman-Kardon sound system so you can blast both your exhaust and your tunes. With plenty of room in the trunk and high-quality cabin materials, the 2021 Dodge Challenger makes for a smooth ride.
2021 Dodge Challenger Exterior Design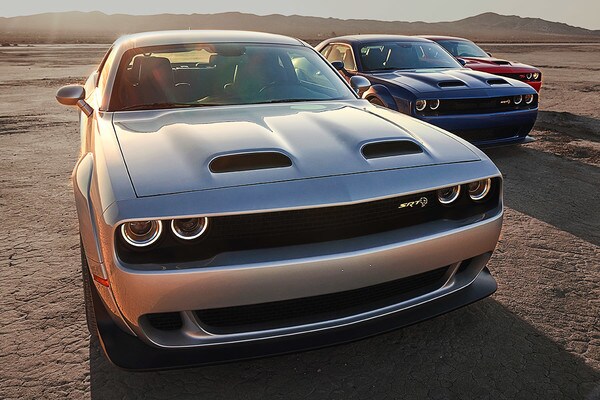 Retro styling combines with modern muscle to create a powerful-looking 2021 Dodge Challenger. With huge, grippy tires, sporty body, long hood, and broad rear, the 2021 Challenger has a timeless design that never fails to convey pure strength. Signature headlights split rear LED taillights challenge the retro design with modern elements. Nearly every part of the 2021 Challenger is customizable, from the wheels to the hood scoops. Add performance stripes to stand out wherever you go.
2021 Dodge Challenger Safety
The 2021 Dodge Challenger received a five-star overall safety rating from the NHTSA. Available active safety features include rain-sensing wipers, forward collision warning, adaptive cruise control, blind-spot monitoring, and rear cross-traffic alert. Speak to our Finance Centre about our competitive financing options for your new 2021 Challenger.
Contact Us
The 2021 Challenger can be customized in so many ways to make it truly yours. Choose what's under the hood, personalize the exterior, and get behind the wheel of your 2021 Dodge Challenger. Test drive it and hear the roaring exhaust sound for yourself. Contact us to purchase this muscle sports coupe today!
2021 Dodge Challenger For Sale at Roadsport Chrysler